Local Entomologist Provides Insight on Zika Virus & the Arkansas Mosquito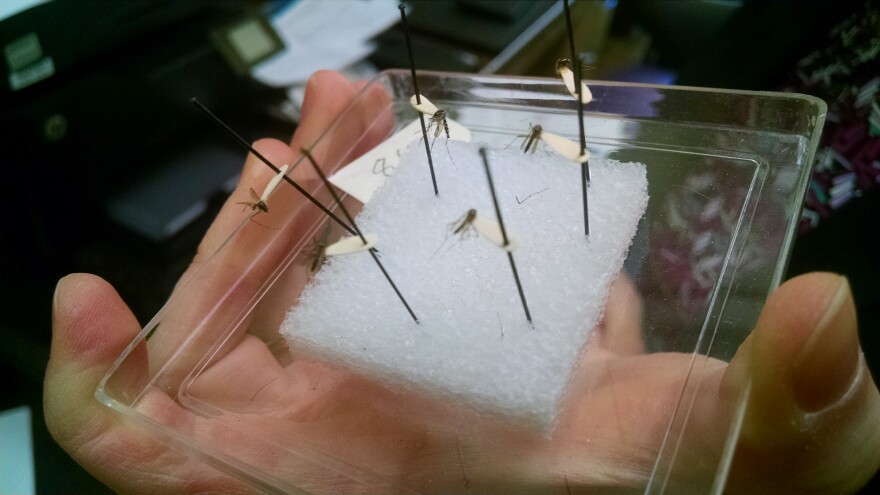 The Centers for Disease Control and Prevention has confirmed recently that an Arkansan has contracted the Zika Virus--a mosquito-born virus found in the Caribbean, South and Central America.
NPR reports 31 cases of Zika infections have been reported in the US so far and World Health Organization officials believe the virus could be responsible for the recent increase of the birth defect microcephaly in pregnant women in Brazil.
Dr. Nate Smith, Arkansas Department of Health Director, told KAIT-TV the mosquitos in Arkansas are the type to carry the virus. Dr. Tanja McKay, Professor of Entomology at Arkansas State University, says the moquitos are the ades albopictus​, or the Asian Tiger Mosquito, and the ades egypti.
According to the CDC website, the ades egypti can be found closer to Louisiana around the southernmost eastern tip of Arkansas. The Asian Tiger Mosquito can be found all over the state and exists as far north as New Jersey. While the Asian Tiger Mosquito has the potential to carry the virus, it is the ades egypti that is the primary transmitter.
McKay says both mosquitoes are diurnal, meaning they feed in the daytime. She also says they both are container breeders known for laying eggs where ever there is a small accumulation of water.
"The issue comes down to the issues around people's homes," McKay said. "You could have little small areas of standing water from flower pots to dog bowls. That's kind of the issue with these mosquitos."
Since the US has better standards of living than the people in South & Central America, McKay says there's no need to be hysterical over a potential outbreak.
"They're predicting that we're going to see more people come down with this disease," McKay said, "but I think we have a lot of options here in the United States. I guess we'll just kind of see how it goes."
Health officials are urging pregnant woman or women wanting to become pregnant to not to travel to countries confirmed of an outbreak as they work to find a definite link between the virus and the birth defect. Meanwhile, the CDC and Dr. McKay suggest doing a little yard work before the summer hits.
"Keep trash out of your yards," she said. "That will be the best way at this point."
And as far as eradicating the mosquito, McKay said other species, such as bats and fish, eat mosquitos as part of their diet and could cause consequences.
Here is a link to the CDC's website on everything about the Zika virus, the mosquitos that carry it, and more prevention tips including effective repellant.