Jackson, Woodruff Counties prep for possible levee failure, shelter opens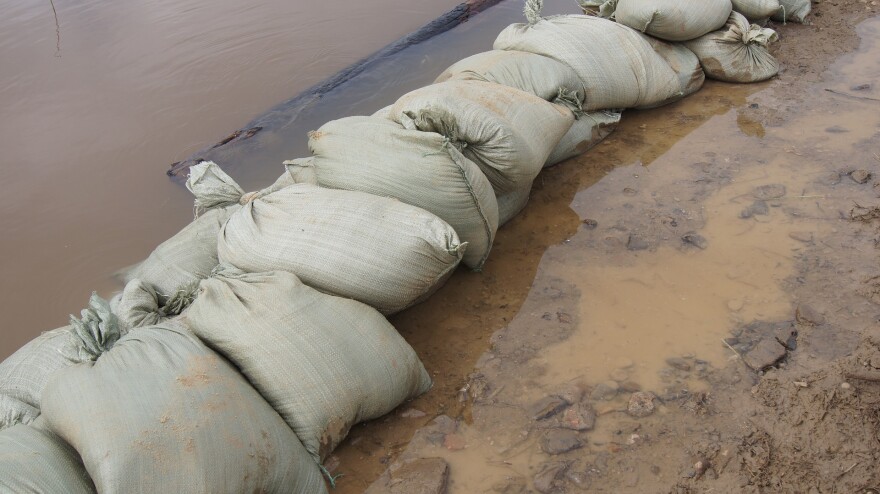 Jackson and Woodruff County officials are keeping a close eye on an eroding levee on the White River.
Jeff Philips is the Jackson County Judge. He told KASU News after issuing a voluntary evacuation notice Tuesday, not much about the levee's structural integrity has changed since Wednesday morning.

"Water has risen some," Phillips said. "As far as the structure of the levee, I haven't seen much change since yesterday. So, that's a good sign."
However, Philips does not want the 30 residents living near the levee south of Arkansas Highway 224 to take any chances. He issued a voluntary evacuation for residents living near the levee in the area after analysis from the U.S. Army Corps of Engineers.
Phillips said he didn't want people living on higher ground to be forced to evacuate--just the residents who are in direct threat of a levee breach. He said didn't want to issue a mandatory evacuation because then he would have to force everyone in the area to leave, including people living on a hill and not in danger of flooding.
He said the area is mostly farmland, but about thirty residents live in the area. Phillips said he's been in contact with state and federal officials, including First U.S. Congressional District Rep. Rick Crawford's office. Phillips also said he's been talking to Charles Dallas, the Woodruff County Judge.
Phillips said if the levee breaches, some of the water could spill into their neighbors to the south, potentially affecting portions of Woodruff County.
Dallas wasn't available for comment, but Brenda Byerly, Woodruff County Office of Emergency Management Director, spoke about the situation.
"It's all just kind of speculation right now," Byerly said. However, she said officials weren't taking any chances. She said she's been in contact with officials with the National Weather Service and the U.S. Army Corps of Engineers; getting data about how the White River could potentially affect them if it breached.
"I just got off of the phone with the National Weather Service and the [U.S. Army] Corps [of Engineers] is suppose to be putting out some new maps," Byerly said. "There's someone from the National Weather Service that's flying a drone so we'll have better pictures of what might be affected."
Philips highly urges people who are in direct threat of the levee breach in Jackson County to evacuate. He also said sandbags are available for residents who might want to try to wait it out.
"Our state inmates at the Irwin Fire Department, which is at the [YMCA], we have provided them sand and sandbags," Phillips said. "The inmates are filling sandbags for the public to come and get, so at least they won't have to fill the sandbags and then take them to their resident."

But staying may not be a good idea. Forecasters have a flood warning in effect for areas along the White River. According to the National Weather Service gauge in Newport, on Thursday the White River was at 30.08 ft. That is about 4 ft. above their 26 ft. flood stage, categorized as major flooding. However, the model showed that the river had crested and is forecast to drop below flood stage by Tuesday.
Also, more rain is expected to come over the weekend. Byerly issued one piece of sound advice for motorist--turn around, don't drown.
"Some people think, 'oh, you know, it's just six inches of water.' Well, six inches of fast water coming across a road can sweep you off in a deep ditch real quick," Byerly said. "That's one of the main mistakes that people do when water goes across a road."
On Wednesday, the Northeast Arkansas American Red Cross opened a shelter at the First Baptist Church, 217 Main Street, in Newport for anyone displaced while the voluntary evacuation order is active in Jackson County.
Anyone needing any information about the shelter can contact Dean Hannah, NEA Red Cross Chapter Disaster Manager, at 501-529-7976.